Remelt Sources produces top quality alloy for the aerospace, biomedical, industrial gas turbine/ power generation, military and petrochemical industries. Material can be made to your specifications or any of the published industrial specs. We stock some of our customer's most frequently required alloys at our Darlington, South Carolina facility for fast delivery. Call 1-800-877-8415 or +1 270-684-6067 today for a quote.
If you don't see what you need please give us a call or send us an email with your enquiries. We have billet in WIP that can be made into bars within 6-8 weeks. To order or inquire contact us at 1-800-877-8415 or +1 270 684-6067 or email .
Notes:
All material is EF+VOD and then subsequently ESR Remelted (Unless otherwise noted)
All bar is Hot Worked – Straightened – Peeled & Polished or Rough Turned – Ultrasonic Inspected – Saw Cut Ends – Machining Quality
All bar is fully tested and certified to ASME/ASTM, QQ-N, ISO and other Industry Standards (Unless otherwise noted)
All material is subject to prior sale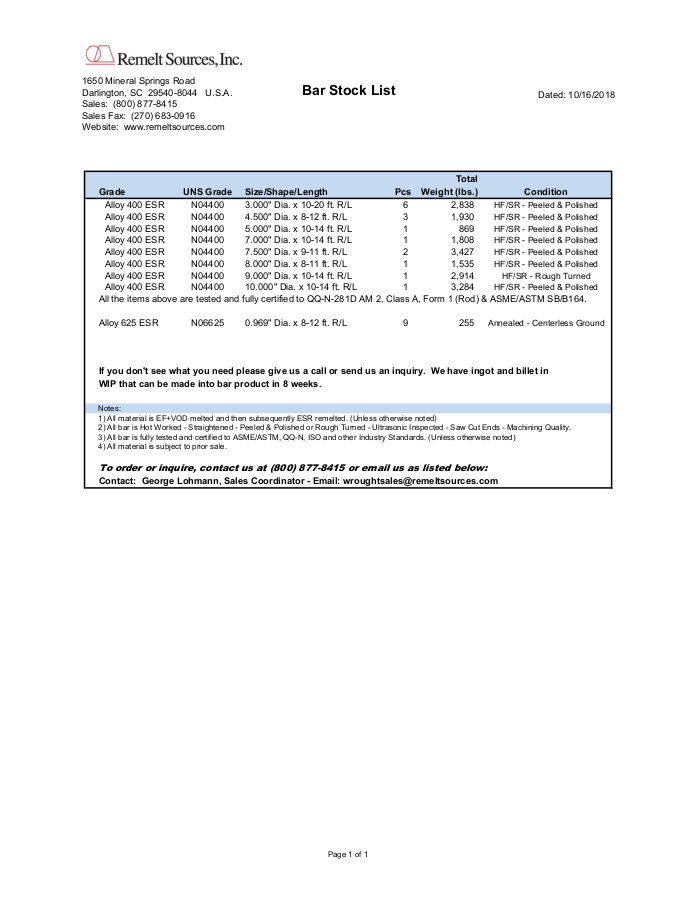 © 2023 Remelt Sources, Incorporated.  All rights reserved.